JULY COMEDY NEWS
A-LIST LOLS ARE ON CHANNEL 10!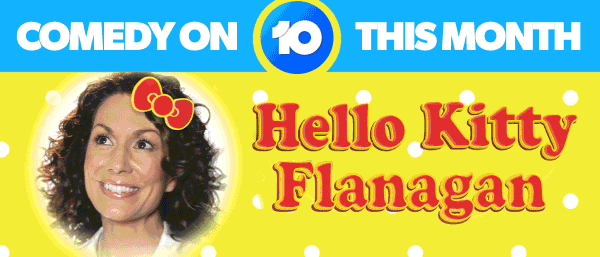 What's better than live comedy?* Live comedy that is beamed straight to your T.V's so that you can enjoy it from the comfort of your homes!
That's right, we are talking good old fashioned telly! Over the next month or so you can catch an enormous range of our specials on your screen. From huge stars to up and comers, from classic stand-up, to hilarious music, to completely improvised randomness!
Featuring all your favourite such as Arj Barker, Kitty Flanagan, Carl Barron and tonnes more – tune into Channel 10 on Monday nights, and Ten Peach on Tuesday nights, for your comedy fix. Stuff Netflix and Chill, it's time for T.V and LOL.
And remember – if you love the comedy specials – you'll love the live shows! All your favourite artists are touring now – so check out some tour dates below. *
Note: Nothing is better than sitting in a room full of people who are all cracking up laughing – please go see the shows.
EDINBURGH FRINGE KICKS OFF THIS MONTH

It's the biggest arts festival in the world – and it all kicks off next week! The Edinburgh Fringe takes over the Scottish capital for one enormous month. This year's festival will play host to over 50,000 performances of over 4,000 shows, and we've got 5 of the best right here!
The Stevenson Experience: Festival favourites, the Stevos, return after two completely Sold Out seasons in Edinburgh. They are bringing their brand new show, chock full of high energy hilarious songs and classic sibling banter.
Steph Tisdell: Winner of the Melbourne International Comedy Festival's Pinder Prize, Steph makes her Edinburgh debut as one third of the Aboriginal Comedy Allstars!
Jimeoin: The acclaimed Irish master returns to the fringe for another season of acutely observed, utterly hilarious comedy. An absolute fringe sensation, Jimeoin always delivers one of the finest and funniest shows on the circuit.
Sh#tFaced Shakespeare: Macbeth: A bona-fide fringe institution, this troupe of professionally trained actors get one cast member absolutely sozzled and then attempt serious Shakespeare. This year they take on Macbeth in the Fringe's largest venue every night.
So tell a mate who lives abroad and get them along to some fantastic comedy at the Fringe!